Main content starts here, tab to start navigating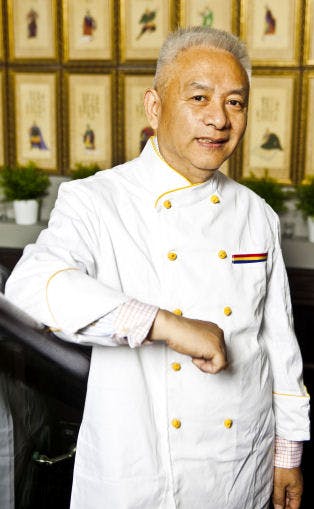 Peter Fang
Over the course of 22 years, House of Nanking has solidified itself as a veritable landmark and institution in San Francisco. Countless diners from all over the world can attest that, despite being the chef, Mr. Peter Fang never misses an opportunity to personally take orders from customers often grabbing the menu and convincing diners to have faith in him. Diners rave about Peter's bold, fresh, flavorful and innovative recipes.
Peter has received numerous awards and has been featured in many articles and television programs. Presently Peter and his daughter Kathy Fang are eager to share their newest culinary vision at Fang.
Fang embodies both modern and authentic Chinese cuisines in a fine dining setting. With a larger and more modern facility, Peter is freer to express his culinary musings. As Chef, Peter Fang believes that good-tasting food is universal and should not be bound by how dishes were made in the past. While a portion of the menus still remains traditional, a section of the menu now takes traditional family recipes and reinterprets the seeking to pairs spices and ingredients not commonly found in Chinese cuisine. With Peter's trademark inventiveness and eye for quality, the menu evolves and changes based on seasonally fresh ingredients from the same local Chinatown markets Peter has visited for decades.
Patrons come to Fang to learn about Peter's food not only through his dishes, but also through meeting him and actually experiencing first-hand how much his craft and his customers mean to hi. Few other restaurants in the city give you the opportunity to meet the person behind the food every night. This intimacy has made House of Nanking unique for more than 26 years and Fang Restaurant continues that tradition. COme to Fang and let us make your experience a personal and memorable one.